The Tristan Chord, Acrylic on Canvas, 35.5 x 47 inches. "The primal cloudless heavens ebb and flow, swell and condense, through vast eons of time til the visible world is created"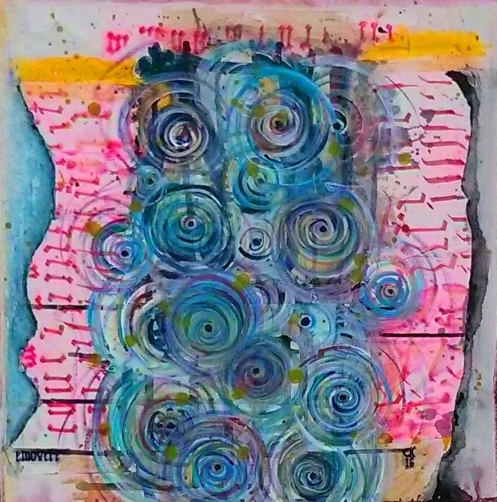 Emovere, Mixed Media on Canvas, 24 x 24 inches
Pseudoscience, Acrylic and Ink on canvas, 24 x 24 inches
Twelve, acrylic on canvas, 24 x 24 inches
Alchemical Two: Gold Atoms
Acrylic on Canvas
26 x 30 in /66 x 76 cm
2012

As the second and central panel of the Alchemical Triptych, this work shows a simplified and creative representation of the Alchemical process of death, decomposition, rebirth and the combining of opposites to create a higher state of being.
This painting is based on an image of two gold atoms colliding. In the Alchemical process, the desired result is essentially Gold. Surrounding it are Mercury, Salt, and Sulphur, symbolic elements which are, in Alchemical philosophy, the necessary components to achieve gold. Near the centre top is an Alchemical symbol for gold. The surrounding text is composed of measurements and attributes of the element AU/Gold. Interspersed are quotations relating to the state of "purity" in enlightenment. Philosophical alchemists consider the Alchemical process a metaphor for enlightenment and achieving inner knowledge of "the gold within".
Higgs Bosen I
Acrylic on canvas
17 x 17 in / 43 x 43 cm
2012
This painting is based on a theoretical image of the Higgs Bosen or Higgs particle, an elementary particle in the Standard Model of particle physics. The Higgs boson is predicted to exist for theoretical reasons, and may have been detected by experiments at the Large Hadron Collider. For me, these images and ensuing paintings demonstrate the intense beauty & infinite knowledge of the universe.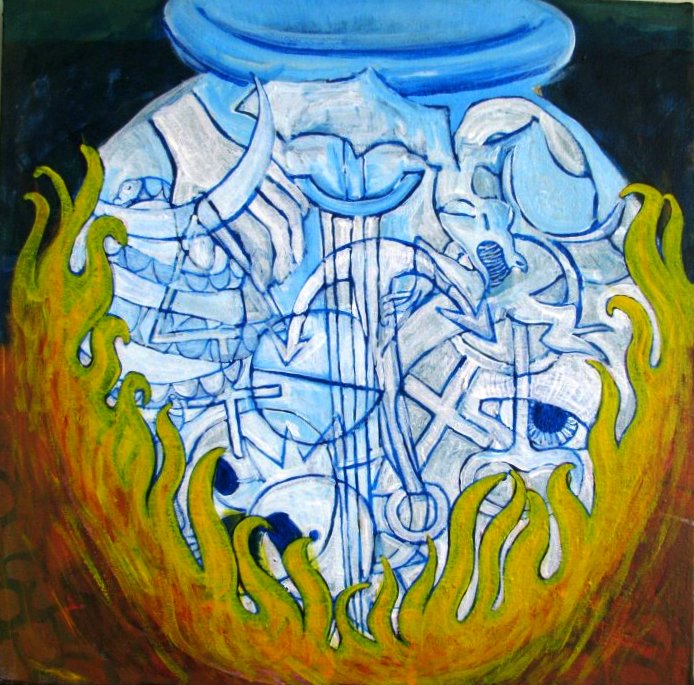 Biography
Acrylic on canvas
17 x 17 in / 43 x 43 cm
2012
The Alchemists wrote of combining base elements in a complicated series of steps with the aim of producing gold. Although some certainly did try this, for many then, and still, Alchemy is a spiritual practice and this painstaking process is a metaphor for finding the "pure gold" of enlightenment that lays in potenia within us all. Within this Alchemical retort (or cauldron) simmers traditional Alchemical and mystical symbols: Mercury, Sulphur & Salt; the Sun & Moon; the dragon and the serpent's egg. From Qabbalistic philosophy, the hand, the eye, the sword, the anchor and the key. And of course, a skull to represent the death of one phase of existence. Eventually, all the superfluous, leaden and toxic elements boil away and we are left with an elixir of our own unique pure gold. Written around the top three edges of the canvas in gold, are the following words: "Vista Interioraterrae Rectifiando Invenies Occultum Lapidem... Visit the Interior Parts of the Earth: by Rectification thou shalt find the hidden stone."
Spheres
Works of planets, orbits, mazes and containers.