Stalemate Acrylic on unstretched canvas, grommets 26 x 46 in/66 x 117 cm 2014
(H)ear, Acrylic on canvas 20 x 16 in/50 x 40 cm 2015
Genius Locii, Acrylic on canvas 20 x 16 in/40 x 50 cm 2015
SenseMemory, Acrylic on canvas 20 x 16 in/50 x 40 cm 2015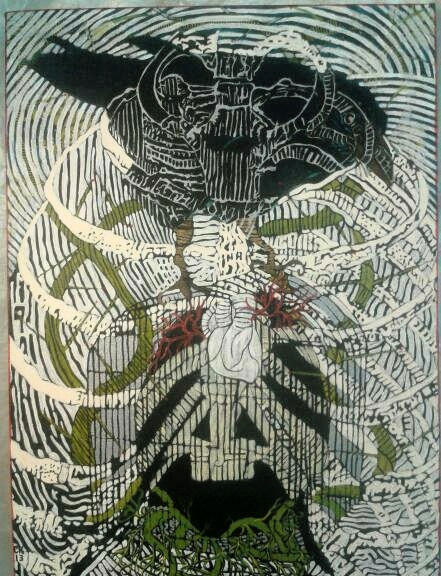 The Encaged Heart
Acrylic on canvas
18 x 20 in / 46 x 50 cm
2013

When I was a little girl, my mother had a canary named Mickey. The wire cage on it's metal stand, the cag'es cover carefully placed over top every night, the little bird's cheerful twittering and singing were constants in my childhood.

By the time I was 8, it was my job to put food and water in the little plastic cups that slid into the sidebars, and to change the paper and pour a little gravel on the cage's floor. I regarded it as a serious responsibility, because there was always the danger of Mickey escaping, flying out the cage's open door as I was reaching in, or out the bottom if I accidently lifted the cage while changing the paper. He did escape once or twice, flying throughout the living room, against the drapes, seeking the window and the open skies beyond.

After a while I realized there had been many Mickeys over the years; one day we would wake up and there would be a silent, still little yellow bird laying on the floor of the cage. I began to feel that it was a great injustice to keep anything in a cage.

It was in my late teens, just as I was leaving home, that the dreams began. I dreamed that I had forgotten to feed Mickey, that a whole week had gone by before I remembered and that I would find him, dead, laying on the bottom of his cage. These dreams carried on for years, until I finally realized that the bird represented me, my soul, my very essence. My unconscious was telling me that I had to nurture my soul if I wanted to survive. This is how the image of the birdcage began to emerge in my creative works, beginning in about 1990.

In The Encaged Heart the canary cage is at the centre of the composition, It now serves as a perch for the raven, a free, autonomous being, not an enslaved creature. This empty birdcage is enclosed in yet another cage, a ribcage.

The physical heart is housed within the ribcage. Yet the heart is not just an organ of the body; it is also an energetic and philosophical dynamo connected to love, pain, fear, joy. It's blood vessels reach out, searching, yearning. To let it escape from it's cage, to fly free devil may care in love and compassion is perhaps our greatest risk and freedom. From these flights we grow, set roots, and learn that life and love is set with thorns as well as green garlands. Sometimes we still have to leave a trail of breadcrumbs to lure our heart, that tiny bird, back to the safety of it's chosen cage.
Body Territories